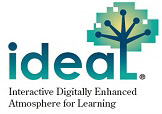 IDEAL MAILING LIST
Sign up for information on the next Ideal Experience click here

P2P IDEAL®: Telephonic Teaching Rounds Updates
Sign up for the next Teaching Rounds Updates
Click Here
Thank you for experiencing the IDEAL™ Learning Center at a recent scientific conference. An electronic syllabus for each activity can be found under the PROGRAMS tab or by clicking the individual links below:
Opioids remain the cornerstone of treatment for moderate to severe pain but their use can quickly lead to tolerance, physical dependence, and potentially, abuse. We hope your participation in the IDEAL CME/CE activity met the goals of increasing your knowledge in pain management and facilitating a positive comfort level in prescribing controlled substances such as opioids in your practice through the discussion of specific measures designed to minimize the potential for abuse, misuse, and diversion as well as minimize the risk of legal involvement.
We hope to see you at our next IDEAL experience during the U.S. Psychiatric and Mental Health Congress on November 18 - 21, 2010 in Orlando, FL.
FACULTY (Listed Alphabetically)

Paul Arnstein, RN, PhD
Clinical Nurse Specialist for Pain Relief
Massachusetts General Hospital
Boston, MA

Howard A. Heit, MD, FACP, FASAM
Assistant Clinical Professor of Medicine,
Georgetown University School of Medicine
Washington, DC

Doug Gourlay, MD, MSc, FRCPC, FASAM
Wasser Pain Management Centre
Mount Sinai Hospital
Toronto, Ontario, Canada

Kenneth Kirsh, PhD
Assistant professor in Pharmacy Practice and Science
University of Kentucky College of Pharmacy
Lexington, KY

Mary Lynn McPherson, PharmD, BCPS, CPE
Professor and Vice Chair, Dept Pharmacy Practice & Science
University of Maryland School of Pharmacy
Baltimore, MD

John F. Peppin, DO, FACP
Associate Professor,
University of Kentucky College of Pharmacy
Lexington, KY